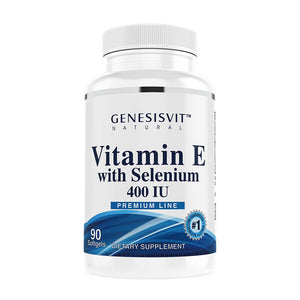 Vitamin E is well known for its effects to prevent oxidation of lipids or fats in the membranes of cells. Its most potent form is known as alpha-tocopherol. This vitamin is found in various foods such as green vegetables, seeds, nuts, legumes, eggs, milk, vegetable oils, wheat germ and meat.
Benefits of Vitamin E
The antioxidant effect of this nutrient protects other fat soluble vitamins from damage by oxygen. Particularly benefits the use of vitamin A in the body. Thanks to these characteristics vitamin E is widely named as an anti-aging supplement. Among its functions, is needed for blood circulation, normal blood clotting and overall cardiovascular health. It also helps to have healthy muscles and nerves, strengthens the walls of blood vessels and promotes healthy hair and skin.
Like vitamin E, selenium acts as an antioxidant. In fact, selenium is even more effective as an antioxidant when combined with vitamin E, according to the Office of Dietary Supplements. Selenium also helps regulate your thyroid, the small butterfly-shaped gland that controls all the metabolic processes in your body, and keeps your immune system functioning properly. Selenium allows your body to build white blood cells, which help the body fight illness and infection.
Features of the Supplement Vitamin E 400 IU
Made in Usa
Helps prevent oxidation of Cells*
Promotes the assimilation of Vitamins in the body*
Supports the health of muscles, nerves, hair and skin
Helps strengthen the immune system
 * THIS STATEMENT HAS NOT BEEN EVALUATED BY THE FOOD AND DRUG ADMINISTRATION. THIS PRODUCT IS NOT INTENDED TO DIAGNOSE, TREAT, CURE OR PREVENT ANY DISEASE.
 Warning:
Do not use this product if pregnant or nursing. If you are under physician´s care or taking medication, consult your health professional before using this product